Welcome to Darkwood Wiki!
Darkwood is a top-down survival horror game in development by Acid Wizard Studio.
The game is currently available on Steam Early Access.
Get to know more about the game here.
We are looking for wiki contributors! Here is how to help.
Darkwood Alpha 9.1 was released January 5th, 2017.

Fixed frozen centipede in Swamp hideout.
Fixed redneck close to the shrine not running away. (needs new worldgen)
Fixed Musician and his infection wrongly positioned when in the Swamp hideout. (needs new worldgen)
Fixed incorrect Chomper behaviour in Hunter's cabin. (needs new worldgen)
Fixed incorrect colliders in the holes shortcut in the chapter 1 village. (needs new worldgen)
Fixed weird animal b…

Read more >
It's been a crazy, active month since the release of Darkwood's Alpha 8, and with it came changes and improvements to the wiki! Here's a showcase of everything that has changed over the past weeks:

We have overpassed the 400 articles milestone! Thanks to everyone who made this possible :) Hard work was put by the community into updating the wiki with all of Alpha 8's content.
The wiki has been accepted into Wikia's Community Spotlight! This means w…

Read more >
With Darkwood being in Early Access, the developers are always looking to make the game better. And we can help out too now! Every wiki contributor is invited to provide suggestions for naming the player skills in the game, which are currently still labelled with inconvienently lengthy phrases.

Simply go to the Name the Skills campaign page and chip in your proposals. The campaign ends at the close of August.

Read more >
Forum Activity
See Forum.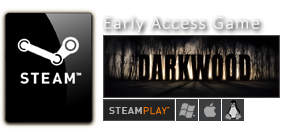 How to help
---
Welcome to Darkwood Wiki! Feel free to join us and contribute to this wiki. Everyone is free to create a new page or edit an existing one.
Questions about wiki editing should be directed towards the administrators.
0
Darkwood Wiki
Join the Chat>
Poll
---
What do you think of Chapter 2 and the Alpha 8 update?
What to do
---
The wiki needs your help with a number of high-priority tasks.
For any questions concerning this, feel free to shoot an admin a message.
Bringing the Darkwood wiki up to speed with the sweeping changes introduced in the latest updates.
Template coder required! We are still looking to expand our Itembox template. Please fully read the template's documentation first before proposing any changes.
Ad blocker interference detected!
Wikia is a free-to-use site that makes money from advertising. We have a modified experience for viewers using ad blockers

Wikia is not accessible if you've made further modifications. Remove the custom ad blocker rule(s) and the page will load as expected.